Ep 3 recap – Don't Say Baby!
BY: Rach Kayrooz
Entrepreneur Ned is taking stock of the bicycles he ordered in from Rebel Sport, just in time for the tourist season, to Bill's dismay.
He much prefers horses. Or blondes.
It seems Mrs St John and her son (who thinks Bill is a cowboy) have grabbed the attention of our Mayor.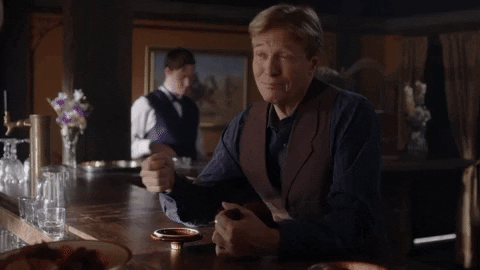 Lee is nesting, as Rosemary eats muffins. Apparently in the early 1900's, you waited until the baby's due date to set up the nursery. Rosemary is dedicated to keeping it simple; just a crib, table, and wallpaper. It seems she forgot a stage with curtains and a few Tony awards on the mantle.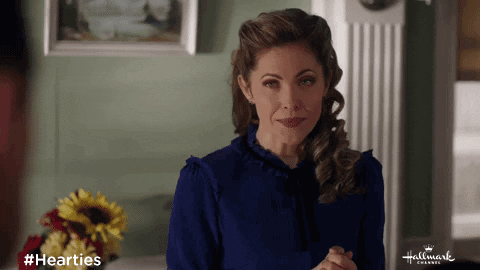 Rosie's controlling nature is out of control, as she fusses over her upcoming baby shower. Elizabeth can't wait to see how much control Rosie thinks she'll have when she's in labour!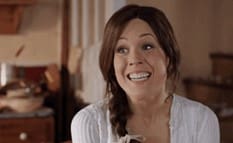 Elizabeth is asking the kids important questions, like, "why does the moon shine at night?" while Allie asks what we're all yearning to know, "how did the square pools suddenly appear that no one ever noticed before? Were the props department bored?"
Faith's carrying yet another box of supplies while Nathan is vying to be her escort. And just as we wonder why he isn't being chivalrous and offering to carry whatever she's holding in every scene, we remember they're decoys to cover her secret pregnancy. Does Carson know?
Look out for next episode where Faith peers over the horses in conversation with Nathan, as the camera cuts to just her hairline.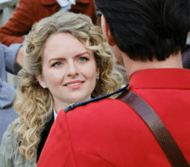 Faith finally agrees to allow Nathan to be her escort, as long as she's driving the carriage.
"I'm only doing this because I like your dog." You tell him, Faith!
Lucas is being annoyed by some kid moonlighting as a furniture removalist in the Saloon. The ladies are having a covert baby shower meeting in the café and disperse like CIA agents as Rosemary enters, ordering 10 gallons of egg salad.
Enter the mysterious Madelyn St John, imposing on Bill to join her for a coffee, to which he obliged. It's at this moment I'm really wanting Molly to go over and spill something on their table.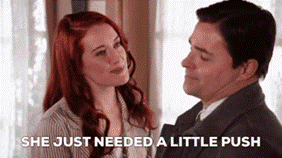 Jamie should be in school, but now he's annoying Bill who's taken up BMX riding as he can't be bothered saddling up the horse. Jamie demonstrates the early signs of misogyny, as we cheer on Allie to put him in his place!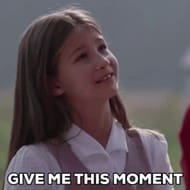 Scout can sniff a bandit from miles away, cos he's the next Benji. Turns out it was just a squirrel. A bandit squirrel. That Nathan abandoned Faith to chase. Squirrel 1, Nathan 0.
Rosemary is about to be pampered in a dentist chair with cucumber hors d'oeuvres. Her brain won't switch off, as Fiona prepares the face mask. Can someone please tell Rosemary her face will crack if she talks? Fiona and Mei escape and hide from Rosie's incessant chatter.
Nathan makes Faith smile by saying he'll fix the carriage wheel, and we wonder why men don't get that they can make us smile just by fixing something.
The women of Hope Valley surprise Rosie loud enough to get her water to break, but, alas, we are still waiting. Rosie is delighted at the baby gifts. This baby will never be without a bonnet, or love, from our favourite women of Hope Valley.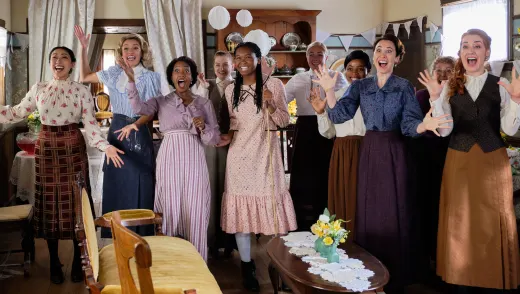 Minnie has a gift for everyone, a family tradition of a candle to keep lit until a new baby is born. At this point my hormones are raging more than Rosie's and I need tissues. And chocolate. And a candle.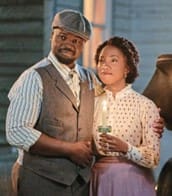 A signed confession from McCorry is in the possession of Lucas to deter Jerome from his evil ways. And that bad guy voice. We hope it'll run him out of Hope Valley for good. Cue suspense music. I knew that envelope contained a blank piece of paper – the oldest trick in television! Lucas' bluffing got him this week's Hope Valley Hero Award!
It appears Madelyn isn't mourning her husband for long, smiling flirtatiously at Bill. We all know she has some secret 'business' to attend to, but what is it? Her son made mention of the Champs-Élysées. Could this be another French connection causing trouble for Lucas? Or have Hallmark recently secured a European distributor for WCTH?
Henry is still raging with self-imposed guilt, when Allie congratulates him on being responsible for the hot springs appearing. So, it wasn't the props department after all! Henry goes off to register his new business venture, ACME Dynamite.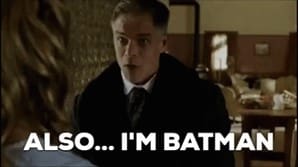 Lee surprises Rosie with a beautiful crib and rocking chair he and Joseph made. The chair material is surprisingly similar to one from a 1990's Amart catalogue…
Lucas brings Elizabeth a vanilla and lavender wedding cake. Now he's talking chocolate rosettes with gold leaf shipped from Paris and I'm done.
Elizabeth loves Lucas for what he did for Henry. I'm loving him for Parisian cake.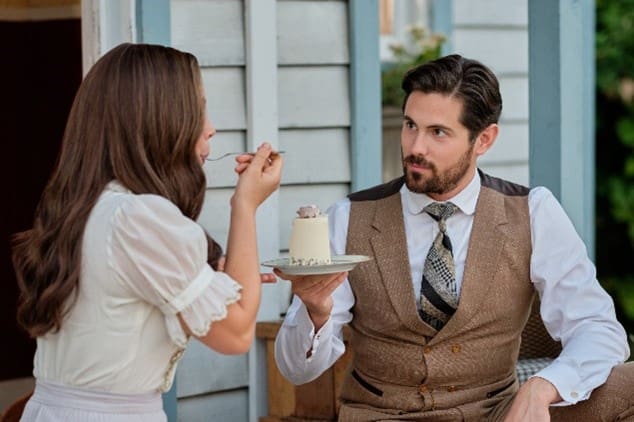 Best Quote:
To Rosemary:
Elizabeth: "For a mother who is a natural-born performer, think of motherhood as your greatest role."
Florence: "And we will all be watching and applauding."
---
Watch When Calls the Heart season 10 on Wednesday nights at 7:30pm AEST on GOOD. or stream from the free GOOD app. Watch this episode now. CLICK HERE.
About the Author: Rach is an AACTA Award-winning writer and tv/film content creator, with a background in social and human rights advocacy. A classically-trained vocalist and proud mum of a singer/songwriter/musician (and a rescue dog), she continues to teach singing professionally and rock 90s dance moves in a non-professional capacity. In the brief moments between raising awareness for accessibility and inclusion for people with disability, Rach dreams of travel to faraway places (like Paris and Vancouver). A former theatre and film actor, these days Rach is an award-winning speaker, currently working on pre-production for her documentary FND: Not My Story, and reality tv show Facing the Fear.
Socials: @rachkayrooz
Feature Image: When Calls the Heart promotional content from GOOD.