Introducing GOOD.jr: GOOD for kids is good for kids and the whole family!
When it comes to finding series and movies you know are safe, fun, entertaining and educational for the junior members of the family, GOOD.jr has you covered. We've done all the hard work for you and put together 2 collections of truely GOOD content just for kids and teens with series, shorts and movies the whole family can enjoy together.
These programs have all of the above and more with puppets, cartoons, music, jokes, dancing, cooking and songs along with biblical teaching and life lessons created especially for children.
Look for the new GOOD.jr logo and you'll know not only is it GOOD but your juniors will love it!
GOOD.jr programs air week days from 7:10am to 8:30am and in the afternoons from 4:30pm to 6:00pm. Saturday morning is also dedicated to GOOD.jr programming with junior focussed content airing from 5:00am to 11:30am.
On the app, head for GOOD.jr and FAMILY to find everything you're looking for!
Here's just a very small selection of what's available right now (Aug '22)
Just for Kids
WYATT'S FORT
Wyatt's Fort, centres around Wyatt, a precocious five-year old, and his two best friends, Howsham and Desmond. They experience all kinds of crazy adventures inside the mysterious world of Wyatt's Tent Fort. Even though they regularly find themselves in perilous situations, they always see it through to the end with a little help from their friends in the fort and the Book of Illumination.
SUPERBOOK
The familiar and the futuristic interact with ancient people, places and events to create a sense of wonder, anticipation, empowerment, and personal breakthrough as the children witness God's interaction with man. Superbook is always an exciting journey, full of discovery – with a transformational outcome.
Superbook teaches children timeless moral truths and life lessons through the captivating, Bible-based adventures of two time-traveling children and their robot friend.
TUNE TIME
Kids don't just watch TuneTime, they get involved. They will dance, they will sing, they will laugh, they'll yell out key words and phrases to help solve problems and all the while they'll discover the love and goodness of God.
Family shows
BRINGING UP BATES
When Gil and Kelly Jo Bates married in 1987, they didn't plan to have kids, but something changed over time; now they're parents to 19 children – yes 19! When they range from toddler to 20-something and live under one roof, challenges abound, even for a tight-knit family like the Bates brood. Among those are the parents' strict rules, which include everyone's chores, watching little to no TV, and the girls wearing only dresses. Gil runs a tree service that employs some of his sons, while Kelly Jo stays home to make the meals and do the laundry, home schooling and other tasks. As the eldest children get older, new issues including romance, careers and babies enter the picture.
RAISING EXPECTATIONS
The Wayneys are an amazing family: good looking, MENSA smart, talented, athletic and popular to boot. Paige (Ringwald) and Wayne Wayney (Priestley) have worked hard at raising "multi-exceptional" offspring and are proud of their children: Adam, Conner, Bentley and Derek. Everyone in town envies them or wants to be them, and you can even find Paige's book about raising her extraordinary family on the bestseller list. But alas, their fifth child, Emmett, is not marching in lock step on the path to familial greatness. What he lacks academically, athletically or artistically, he makes up for with relentless enthusiasm and curiosity. Emmett knows that one day he'll find his way, but in the meantime he's determined to celebrate his C-average status in spectacular creative fashion – no matter how often his best laid plans threaten to destroy the family's living space, reputation or sense of safety.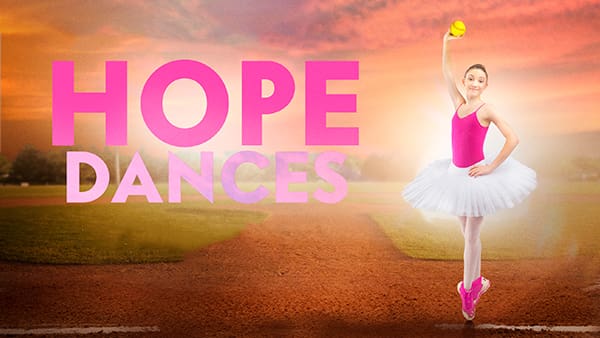 HOPE DANCES
Hope Douglas has a dream but her parents have thrown her into battle between playing sports and dancing ballet. When she has a chance to win the lead role in the Nutcracker Ballet, and must choose between pursuing her mother's dream of her becoming a prima ballerina and her father's aspirations of making her a sports champion.
When a tragedy strikes, Hope has to make a difficult choice that will decide her fate – which way does she go?
Explore GOOD.jr and FAMILY right now along with everything GOOD. has to offer. Click here to get started today.