Rosemary's Baby Shower Lemon Ginger Icebox Cake
BY: Sharon Fitness for GOOD.
Eagle-eyed viewers would have spied the menu displayed on the blackboard at Rosemary's baby shower. For dessert: Lemon Ginger Icebox Cake. 'Icebox cakes' first made an appearance in the kitchens of American housewives in the 1920s when the National Biscuit Company – now known as Nabisco – included a recipe for an icebox cake on the packaging for their chocolate biscuits. The most famous Australian version of this would be the 'Chocolate Ripple Cake', often trotted out by Nannas and Aunties across the country at Christmas time. The crisp biscuits layered with sweet whipped cream when given time in the fridge, soften to a cake-like consistency resulting in a finished product that resembles a fancy layered torte – but no baking required!
An 'Icebox' was, at first, literally a box with ice, used to keep food cool before refrigerators came into common usage. In the 1920s when the appliances became more affordable, manufacturers would promote recipes such as icebox cakes, with the aim that consumers would see the value in their product. They created a new cuisine that made the refrigerator indispensable.
Not sure if there would have been a refrigerator in Hope Valley yet, but they certainly would have had iceboxes and a special occasion, such as Rosemary's baby shower, would have called for a fancy dessert. Here's an easy, vintage style icebox cake made with gingernut biscuits and layers of lemony whipped cream that you can try at home to spoil your friends, family or workmates.
Recipe: Lemon Ginger Icebox Cake
Ingredients
600ml of thickened cream
1 jar of lemon curd – I used the 350g jar of Yackandandah Lemon Curd from Woolies and that was perfect
1-2 packets of gingernut biscuits
Fresh mint, crystallised ginger, lemon zest, candied lemon or edible flowers for garnish. Get Creative!
Method
Whip the cream until soft peaks form.
In a medium mixing bowl, add the lemon curd and stir until it softens (this will make it easier to fold into the cream).
Add about ⅓ of the cream to the bowl and gently fold it into the lemon curd using a rubber spatula. When that looks combined, add another ⅓ of the cream and fold again. Keep doing this until all the cream has been incorporated into the lemon curd and you end up with a light yellow, fluffy filling.
Line a loaf tin with cling film. Spoon some of the lemon cream into the bottom and spread to the corners. You want it to be about 1cm thick. Place a layer of biscuits over the cream. Add another dollop of the cream and gently spread across the biscuits. Repeat.
If you want to have as much gingernut layer as possible, you can even break some into small pieces to fill in gaps at each layer of cream.
Keep layering gingernuts with cream. You should get about 4 layers of biscuits and 4 layers of cream. You can add more layers if you like – just make your cream layers thinner.
Place in refrigerator for at least 5 hours, but ideally, overnight.
When firm, gently turn out onto a pretty sandwich tray. Garnish with piped whipped cream, edible flowers, mint leaves, lemon peel or crystallised ginger, whatever takes your fancy.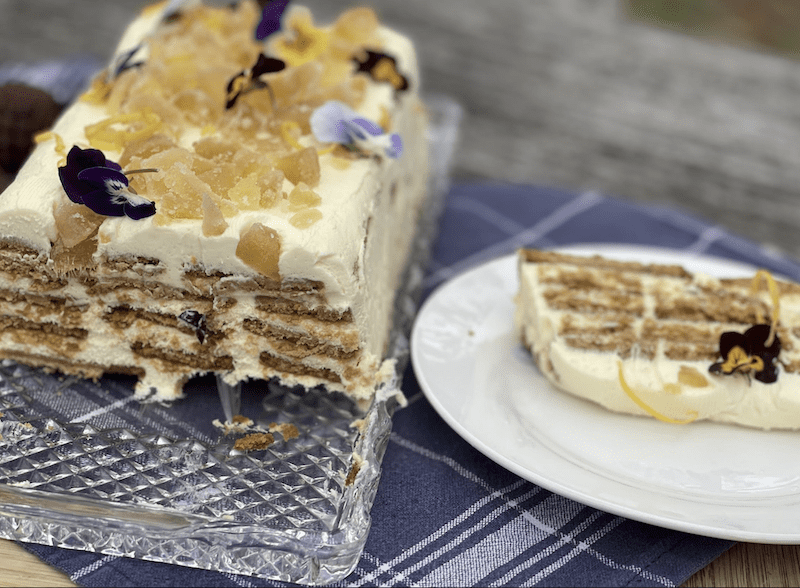 ---
Watch WHEN CALLS THE HEART Wednesday nights at 7:30pm (aest) on GOOD. Watch now on the free GOOD app, Google and Apple TV and mobile devices or visit feelgood.watchgood.com Watch Rosemary's baby shower in episode 3. CLICK HERE.
For more content like this, sign up for our Aussie Hearties Newsletter: CLICK HERE
About the Author: Sharon Fitness is a staff writer for GOOD. She's a movie buff, TV fan, foodie and dog lover.
Images: From the show and supplied.