Try a Little Kindness
By: Sharon Fitness for GOOD.
So… I made a boy in Optus cry today. But not in the way you might think.
I'd heard how staff are being abused at the moment in the wake of the Optus data breach, with people literally queuing just to tear strips off them. Walking past the Optus retail shop in my local shopping centre, I saw they were having a quiet moment so popped in, offered the young staffer a smile, gave his shoulder a pat and said "I just wanted to say…" (his eyes widened probably expecting more of what he'd been getting all day) "…you're doing a great job and it's all going to be ok." His eyes filled with tears as he said how much he appreciated me saying that to him and off I went.
I hadn't really expected tears, so was a bit taken aback. I kind of wanted to give him a hug in that moment but thought that might be over-stepping for the poor young guy, some strange middle-aged lady throwing her arms around him. But after strolling past a few times and seeing how many people were in the store, shop staff listening intently with clipboards in hand, other people waiting around to speak with them, I was thinking how tough their day must be and imagining what people must be saying too them. So when I was walking past again and saw they were quiet, I took the chance. It was the least I could do.
The Kindness Pandemic
After seeing the impact of my words, and wanting to inspire more people to do the same I posted a little story to a Facebook group I'm in – maybe you follow it too – The Kindness Pandemic. This is a group that was established by Dr Catherine Barrett on 14 March 2020 to improve the lives of people devastated by the CoVid19 Pandemic with the idea that, "Kindness won't make COVID19 go away, but it is making our lives easier." Over 1/2 million people joined the group in two weeks. This Australian group encourages acts of kindness and late last year was voted "Most Uplifting Facebook Group in the World"!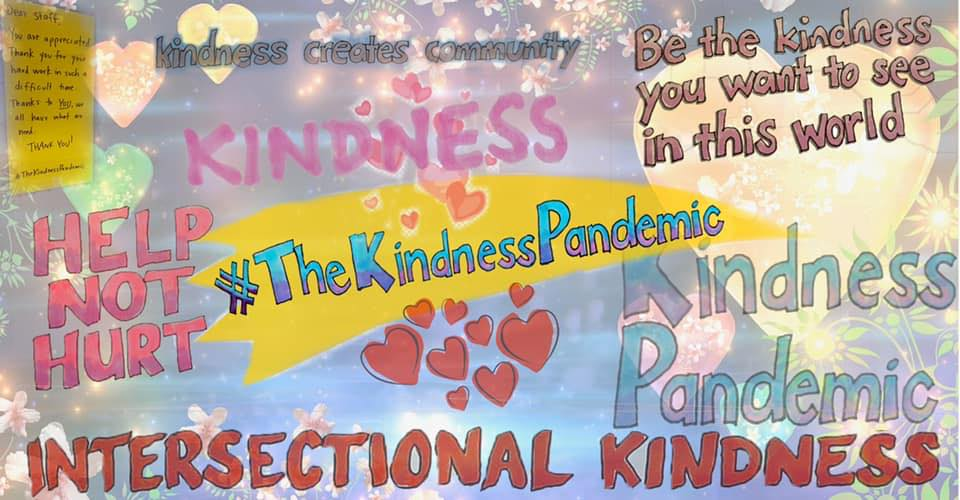 The group members responded, not only liking my post and offering words of gratitude and encouragement, but sharing their own experiences.
It's absolutely demoralising to get abused by customers.

Betty Cook
Betty Cook said, "Good on you! As someone who worked in the other major telco's call centre many years back, it's absolutely demoralising to get abused by customers nearly every single call/interaction."
Julie Wallace said, "I work customer service on the phones for a telco and the amount of times I've been yelled at… is ridiculous. It then spills over into stores as we have to send them there with physical ID so they can be reverified."
Then Wanda Campbell said, "This sort of behaviour has been directed at Airline Employees for decades. I remember working a 13hr day during flight disruptions and opening the car door at traffic lights to throw up on the way home. People have no idea how their behaviour can impact people just trying to do their best job."
And I did wonder, how many of these young staffers, so many of them not long out of school, are finding this all a bit overwhelming. As Chloe Gibson said, "No wonder we have so much mental illness of young people! Give them a break it's disgusting, taking out their anger on the frontline. We see it also in public hospitals on public transport and counter staff. Wake up Australia!"
A few simple kind words can… maybe even save a life.

Lisa Hanson
Offering a kind word can not only make someone's day better, but knowing someone is thinking about them, can make all the difference in the world. Lisa Hanson said, "People don't realise how a few simple kind words can make a huge difference and maybe even save a life!"
These young staffers are bearing the brunt of peoples fear and anger over something bad that was done TOO Optus not by them. Sure mistakes were made, and things probably could have been handled better, but none of this is the fault of store staff.
As Julie Wallace went on to say, "It is always refreshing to have a customer who genuinely wants help, stays calm while asking for help and lets you explain why a charge has gone up or why I can't help over the phone."
Refreshing! Just be be treated like a human. Please, spare a thought for the humans who have to answer the phones and serve in stores. Especially these young employees facing so much abuse in the aftermath of Optus' data breach.
Be Kind
Maybe say hi and offer a friendly smile. Or even some words of encouragement.
And next time you're trying to sort out a query whether it be telco, energy provider or bank, may the impact of your words and actions be refreshing rather than demoralising.
---
About the author: Sharon Fitness is a staff writer for GOOD. She lives on the Sunshine Coast with her 6 dogs, 4 cats and 7 chickens.
Feature Image: Photo by Kelli McClintock on Unsplash . Also The Kindness Pandemic Facebook Group
Names changed to protect privacy.