View and Chew Episode 8 – Food Truck Finale
BY: Sharon Fitness for GOOD.
After some incredible sights and bites in Los Angeles, New York, Chicago, Miami, Washington DC, Las Vegas and San Francisco, as host Mike Chen says, we've barely scratched the surface of what is out there to taste and enjoy.
This episode is showcasing some of the more accessible eats around the country. Street Food! The 'vehicle' of choice in the USA and becoming more and more popular are FOOD TRUCKS. First stop is Las Vegas and a visit to a truck known as 'Stripchezze'. Stripchezze aims to provide the customer a memorable experience at first bite by focusing on fresh ingredients and creative flavour combinations. For foodies and cheese lovers alike, the truck showcases distinctive favourites like Asian style cheese steak or mac & cheese eggrolls with kimchi sauce.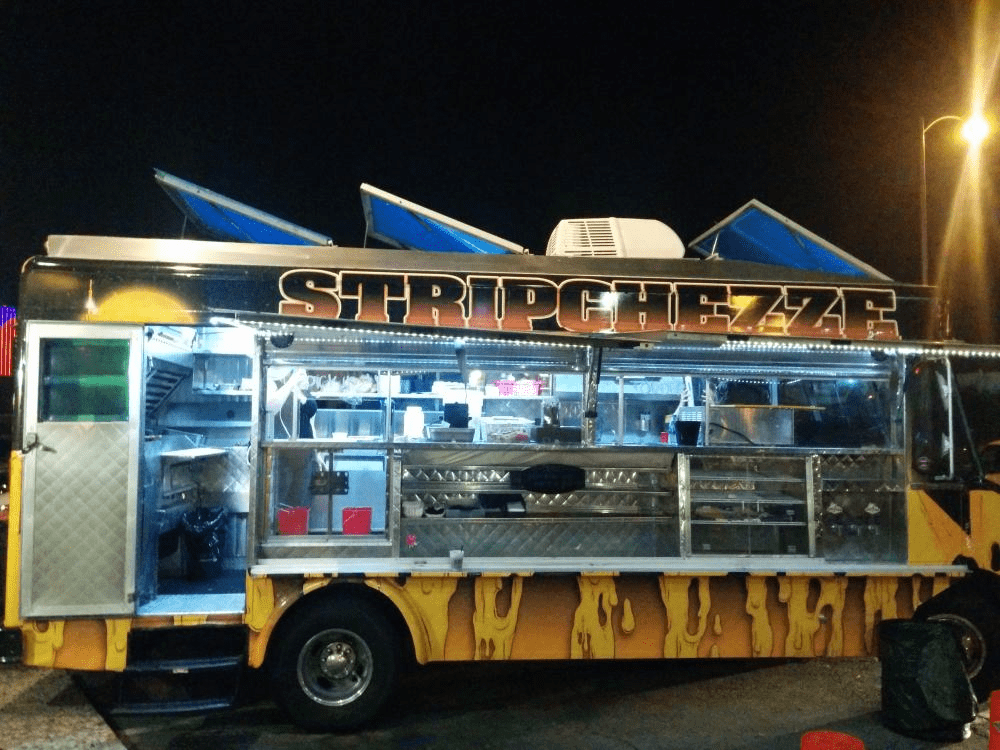 Next stop, back to New York and a visit to a little 'hole in the wall' joint for delicious and wholesome bone broth based soup at the Brodo Broth Co. Created in NYC by award-winning Chef Marco Canora, Brodo is committed to making the most delicious, nutritious broth on the planet.
Old Traditional Polish Cuisine says they are the ONLY Polish Food Truck in New York City! They specialise in smoking hot Grilled Kielbasa
plus a variety of Pierogi that are truly classic, traditional, and authentic. Pierogis are the polish equivalent of a dumpling and Mike enjoys some potato ones to die for. Check below for a recipe to try some for yourself. "Perfectly New York," as Mike Says.
Mike is back in San Francisco now enjoying deep fried wonton chips citrus togarashi salt, and Nori from The Chairman foodtruck, recently voted the Best Food Truck by San Francisco magazine. Their food is inspired by the original street food of Asia – it's bold, spicy, unique, fast and delicious. Their steamed and baked buns use the freshest ingredients that are savoury and addictive.
Tacos y Birria La Unica foodtruck serves some of the best tacos in Los Angeles serving traditional 'birria' style meats with both beef and goat on the menu. You can enjoy the spicy chille-braised meat in a taco, quesataco, mulita, or even in a cup of ramen. Their go-to order for a little bit of everything is their holy trinity: a goat birria taco, a beef birria taco, and a goat birria quesataco.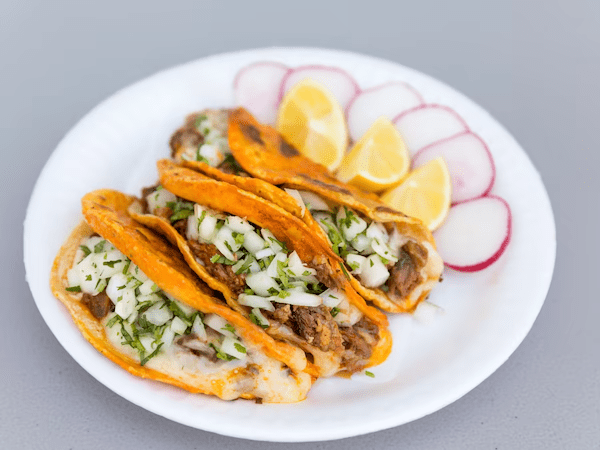 Last stop, and its back to Washington DC for Captain Cookie ice cream sandwiches. Freshly baked cookies filled with homemade ice cream. Drooooool. Kirk Francis made his first cookie at age four and has been obsessed ever since. His recipe for chocolate chip cookies is the result of over three decades of tinkering and testing. To say these cookies are made-from-scratch is an understatement. Years of cookie-making and the finest ingredients have gone into making Captain Cookie the best desserts you've ever had. But these aren't just delicious cookies. Captain Cookie believes it takes more than just baking warm cookies to make the world a better place, so they proudly supports regional efforts to end hunger including DC Central Kitchen, the Capital Area Food Bank, AFAC, and No Kid Hungry, as well as local food pantries and schools.
Well that's it! What a fun ride we've had viewing and chewing all over the USA! Next week – new hosts Allie & Kels take the reins of this epic food tour, this time exploring everything the great city of New York has to offer.
Recipe: Traditional style homemade Pierogi
Pierogi, essentially a boiled dumpling, are very flexible and can be savoury or sweet with fillings such as potato and cheese (below); sauerkraut, cabbage, spiced meats, and even fruits and berries. This traditional recipe is typical of many American Pierogi recipes.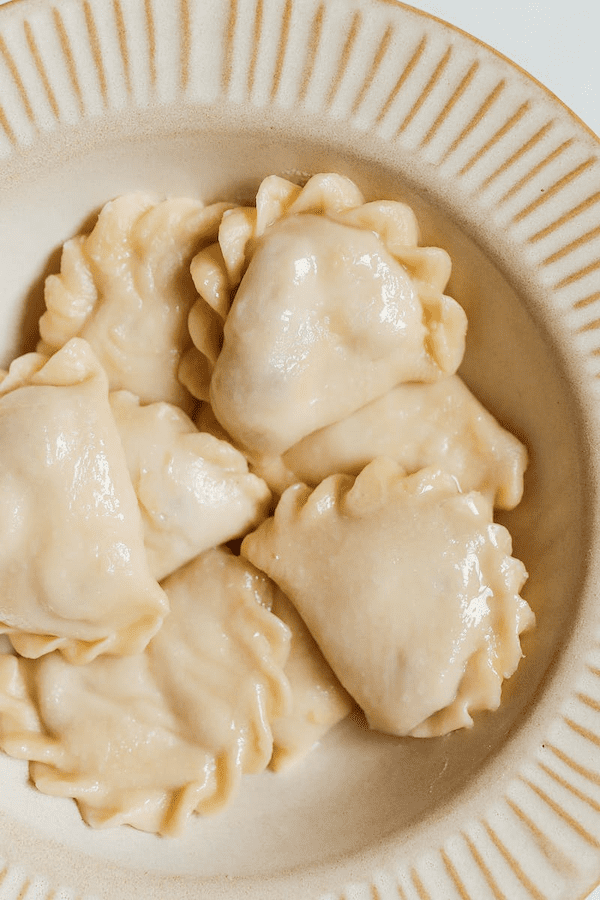 Ingredients
Dough
2 cups plain Flour
1/2 teaspoon salt
1 large egg
1/2 cup sour cream
4 tablespoons of room temperature butter
Filling
1 cup warm mashed potatoes
1 cup grated tasty cheese
To finish
4 tablespoons cold butter
2 large diced shallots/green onions; or one medium sliced onion
Method
To make the dough: Mix together the flour and salt. Add the egg to the flour and combine. The dough will be quite clumpy at this stage.
Work in the sour cream and soft butter until the dough comes together in a slightly rough, slightly sticky ball.
Using just your fingertips, knead and fold the dough without adding additional flour until the dough becomes less sticky but still quite moist.
Wrap the dough well in clingfilm and refrigerate for 30 to 60 minutes, or up to 48 hours.
To make the filling: Combine the warm mashed potato and cheese. Stir and mash until the cheese is melted and the filling is cool to the touch. Taste and adjust the seasonings with salt and pepper.
To fill the pierogi: Roll half the dough 3mm thick. Use a 6cm round cutter to cut circles of dough. Repeat with the other half of the dough. Save the scraps; these can be snipped into small pieces and added to simmering soups.
Place 1 1/2 teaspoons of filling on each round of dough. Gently fold the dough over, forming a pocket around the filling. Pinch the edges of the pierogi to seal, then seal again with the tines of a fork.
Cool pierogi in a large stockpot of boiling salted water. Only cook about 10 pierogi at a time, so that they have room to float without sticking. When the pierogi float, they're done and they can be eaten, simply boiled in this way.
For a crisper finish, sauté the shallots or onion in the butter in a large skillet until the onion begins to brown. Add the drained pierogi and cook until browned and crisped. Serve hot with additional sour cream, applesauce, or other condiments such as sauerkraut, kimchi, sweet chilli sauce – whatever takes your fancy.
---
VIEW & CHEW, Friday nights at 7:00pm (aest) on GOOD, watch now on the free GOOD app, Google and Apple TV and mobile devices or visit feelgood.watchgood.com. Watch this episode now. CLICK HERE.
About the Author: Sharon Fitness is a staff writer for GOOD. She's a movie buff, TV fan, foodie and dog lover.
Images: From the show and from the restaurant's websites