View & Chew Episode One  – New York City
BY: Sharon Fitness for GOOD.
In episode one of VIEW & CHEW on GOOD., host Mike Chen takes a sightseeing tour in an open top bus visiting Central Park, Museum of Natural History, 2nd Ave Deli, Rockefeller Center and more, sampling various iconic eats along the way.
His first stop is Grace Street Coffee for Lavender and Rose Tea Lattes and amazing toasted honey bread with ice-cream, fruit and caramelised corn.
His next search for the perfect bite takes him to 2nd Ave Deli for iconic Pastrami sandwiches, pickles and Celery soda! The 2nd Ave Deli has been a renowned Manhattan landmark for more than half a century. Over the years, its founder, Abe Lebewohl, provided the best Jewish fare in town, transforming his tiny ten-seat Village eatery into a New York institution.
The late Abe Lebewohl was a great restaurateur in the showman tradition and a well-known and much-loved New York personality. The famous 2nd Ave Deli attracted hundreds of celebrity patrons, drawn by the thick deli sandwiches piled high with expertly prepared meat, the greatest chopped liver, delicious chicken soup and other Jewish delicacies, creating satisfying comfort food, just like your Grandmother used to make – only better!
It wouldn't be a trip to the Big Apple without sampling the City's most famous mouthful, this one from Lombardi's New York City, America's first Pizzeria established in 1905. Gennaro Lombardi crafted pizza in the United States using his bakers trade he learned in Naples. Lombardi is credited with developing New York Style pizza and making Lombardi's the first pizzeria in the United States. Still located in the Little Italy section of Manhattan, the restaurant offers beautiful, smoky-crusted coal oven baked pizza, topped with purist tomato sauce, fresh whole milk mozzarella, and basil, keeping locals and visitors alike coming back.
Mike's last stop is a visit to his friend Alvin, host of The Burger Show to share some of his mouth-watering creations.
Hungry? Try our scrumptious NYC deli style sandwhich for your own little culinary trip to the Big Apple. Next week, Mike dishes out the deets on Chicago's most famous deep dish and keeps the ribs coming at a speakeasy-turned-BBQ joint.
Recipe: New York Deli Style Sandwich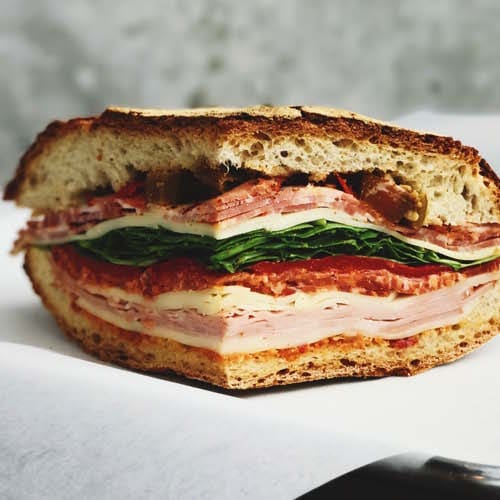 Ingredients for sandwich:
1 long bread roll. A baguette or a white sesame-crusted roll is good. Brioche, sourdough or ciabatta are also perfect. Go with what you love.
1 tbsp red pesto (as below, or shop-bought)
1 tsp balsamic vinegar
1 tbsp aioli or whole-egg mayo
100g mortadella
100g hot salami
100g ham
3 slices provolone or other mild cheese
½ red onion, thinly sliced
1 large pickle, thinly sliced (lengthwise)
3 leaves of butter lettuce
Ingredients for pesto:
100g sun-dried tomatoes
1 red capsicum, seeded, roasted and peeled
100ml olive oil
75g parmesan cheese
50g cashews, blanched almonds or brazil nuts
30g fresh basil
1 clove of garlic
Salt and pepper to season
Method:
For pesto, mix all ingredients in a food processor until incorporated into a paste.
To assemble the sandwich, cut the roll lengthwise and open side by side. On the bottom side of the roll, spread red pesto. On the top side, drizzle with balsamic vinegar, then spread aioli/mayo.
Construct sandwich with layers of deli meats, cheese slices, onions, pickles and butter lettuce.
To serve, close top to bottom, cut directly in the middle and plate. Serve with extra dill pickles for the true NYC experience or try with potato salad, coleslaw, sauerkraut, potato chips or fries. Enjoy!
---
VIEW & CHEW, Friday nights at 7:00pm (aest) on GOOD., watch now on the free GOOD. app, Google and Apple TV and mobile devices or visit feelgood.watchgood.com Watch this episode now. CLICK HERE.
About the Author: Sharon Fitness is a staff writer for GOOD. She's a movie buff, TV fan, foodie and dog lover.