View & Chew Episode Three – Las Vegas
BY: Sharon Fitness for GOOD.
Las Vegas. Sin City. The City of Lights. The Gambling Capital of the world. Or just – Vegas. The 25th most populous city in the USA, Las Vegas is an internationally renowned major resort city, known primarily for its gambling, shopping, fine dining, entertainment, and nightlife. The city bills itself as the Entertainment Capital of the World and is famous for its luxurious and extremely large casino-hotels. It is also becoming one of the premier foodie destinations in the world and it's not uncommon to see a who's who of celebrity chefs being promoted on billboards around town.
View & Chew host Mike Chen knows how to sniff out a good meal and in Vegas, you don't have to go very far.
His first stop for some coffee and breakfast is Makers & Finders a trendy and upbeat coffee bar slash restaurant famous for its handcrafted specialist lattes and Latin inspired comfort food. He starts with the Columbian inspired Bandeja Paisa, a dish he describes as 'Vegas on a plate'. There's steak, crispy pork belly, rice, beans, fried plantain, avocado and an egg all served with vibrant chimichurri sauce!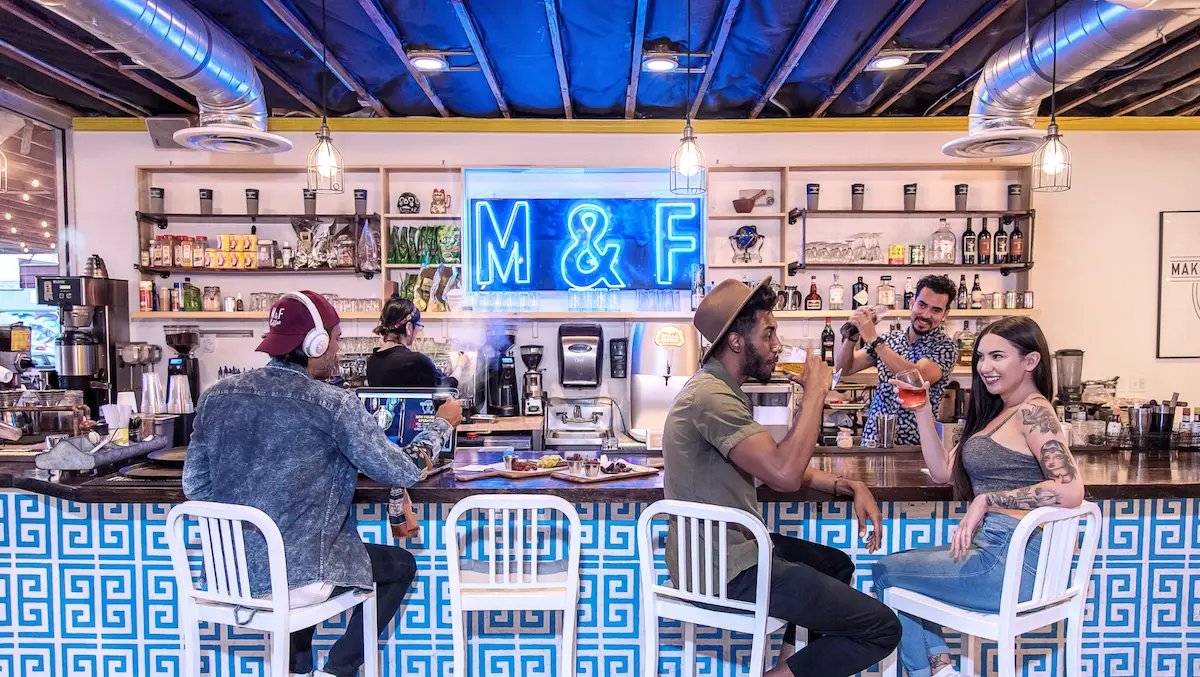 Vegas at night is where its at and a stroll down the Strip will lead you to endless incredible dining experiences. One of Mike's food favourites is noodles, so its not surprising he heads to Shàng Artisan Noodle. The art of noodle making is an ancient practice in China, with the earliest records dating between 25-200 A.D. Shàng Artisan Noodle focuses on the traditions specific to Shan-Xi, a landlocked northern province where wheat cultivation thrives.
At Shàng, the labor-intensive, centuries-old technique of kneading and hand-pulling dough is still executed by skilled artisans with deft hands. Silken and springy in equal measure, the noodles are used in a diverse array of hot and cold dishes that reflect the unique culture of this particular region.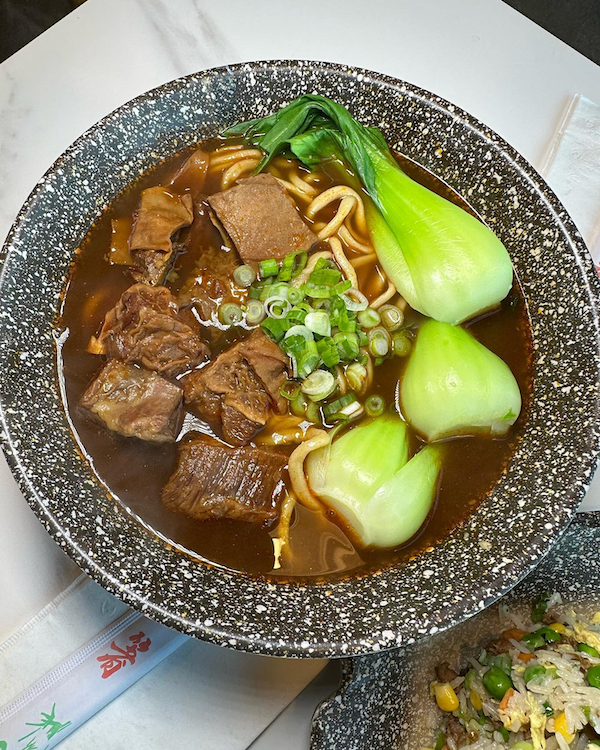 Time for some adventure and Slotzilla Zipline has Mike flying down the length of the Fremont Street canopy 23 metres in the air for an exhilarating ride and a very different way to see this colourful precinct. Now he's hungry.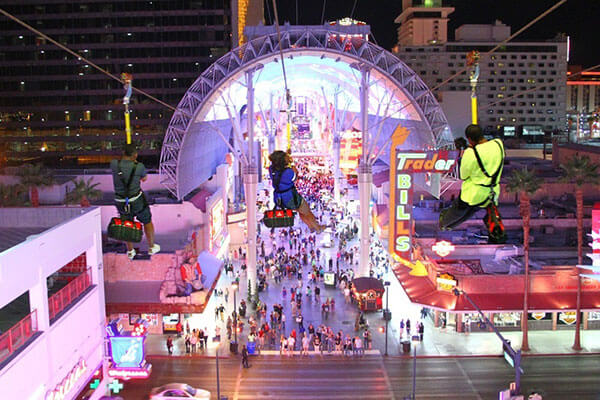 Pamplemousse le Restaurant was a Vegas institution that has now closed. The 44-year-old converted home featured the charm of a French countryside inn, an impressive wine cellar and a charming, cozy dining experience. Serving classic French fare, Mike enjoys some crudités, escargot, French onion soup, seafood, roast duck with raspberry sauce and soufflé for dessert. This guy can EAT!
As Mike says farewell to Las Vegas, we look forward to next week, when he will explore the ups and downs of San Francisco on a classic cable car and dig into a crab feast fit for King Neptune. Check below for our version of Chinese Beef Noodle Soup. …Is he eating doughnuts now?!
Recipe: Chinese Beef Noodle Soup
Ingredients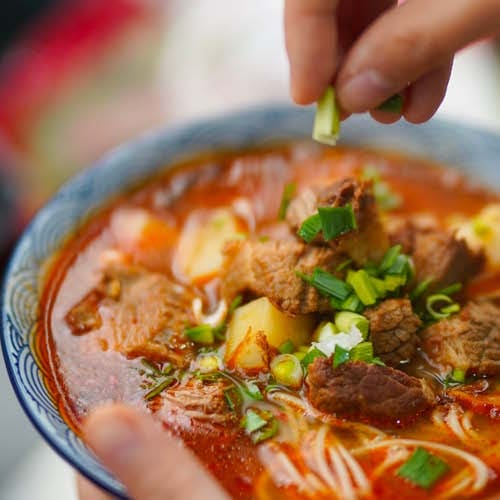 750g beef chuck steak, cut into 2-inch cubes
1 tablespoon dried Sichuan peppercorns
3-5 slices fresh ginger
2 tablespoons Chinese cooking wine
1/2 cup soy sauce
1 tablespoon sugar
5 star anise pods
2 bay leaves
1-2 whole scallions/green onions/shallots
1-3 teaspoons chilli bean sauce, to taste
2-5 dried chiles, to taste
4 cups water
2-3 cups vegetables. For example, 2 cups of a mix of carrots, turnips, potatoes or daikon cut into 2-inch cubes plus a cup of green vegetables such as baby spinach, bok choy or other Asian greens.
Salt, to taste
More scallion and/or cilantro for garnish
Noodles of your choice
Method
Heat oil in a pot on medium-low and add dried peppercorns. Stir a few minutes until the peppercorns are fragrant. This is the flavour that makes your tongue tingle slightly, and makes the kitchen smell so appealing. Before the peppercorns burn, use a straining spoon to take them out, or pour the oil and peppercorns over a strainer, and transfer the fragrant oil back into the pot.
Turn the heat to medium-high and add slices of ginger and pieces of beef. Stir for about 10 minutes until the beef is browned on all sides.
Add cooking wine, soy sauce, sugar, scallions, star anise, bay leaves, dried chiles, chili bean sauce and water to cover beef.
Bring to a boil, then cover and simmer for 30 minutes.
While your soup gains flavour and your beef cooks, peel and cut your root vegetables into chunks. The idea is for the beef and vegetables to be a similar size and shape once they're cooked.
Add your root vegetables to the soup, cover, and turn the heat up briefly until the liquid boils again.
Turn to low and simmer for at least an hour. Really, the longer the soup can cook, the softer the beef and the more flavoursome the broth will be. If you have a slow cooker, you can start this beef noodle soup in the morning before work and serve it at dinner. If you're using an Instant Pot, you can do a quick version, pressure-cooking all the ingredients together for 40 minutes.
When the soup is almost ready, prepare your noodles and chop up the greens and the garnishes.
Serve the soup ladled over the prepared noodles in deep bowls with a splash of sesame oil on top, laying the greens to the side and sprinkling the garnishes over the top. You can season to taste or add more chilli bean sauce at this point if you like it extra spicy.
---
VIEW & CHEW, Friday nights at 7:00pm (aest) on GOOD, watch now on the free GOOD app, Google and Apple TV and mobile devices or visit feelgood.watchgood.com Watch this episode now. CLICK HERE.
About the Author: Sharon Fitness is a staff writer for GOOD. She's a movie buff, TV fan, foodie and dog lover.
Images: From the show and from the restaurant/attraction's websites and Facebook