View & Chew Episode Two  – Chicago
BY: Sharon Fitness for GOOD.
This week on View & Chew, host Mike Chen visits Chicago. Situated beside Lake Michigan in Illinois, the 'Windy City' is among the largest cities in the USA – and not really that windy.
Famed for its bold architecture, it has a skyline punctuated by skyscrapers such as the iconic John Hancock Center, 1,451-ft. Willis Tower (formerly the Sears Tower) and the neo-Gothic Tribune Tower. The city is also renowned for its museums, including the Art Institute of Chicago with its noted Impressionist and Post-Impressionist works. But we're not here for architecture or culture. We're here for food!
We're only on episode 2 but we already know that Mike loves his coffee, and so it's not surprising his first stop is for breakfast at Hero Coffee, famed for their bagel sandwiches and crème brûlée lattes. Hero Coffee's aim is to stand out as a Chicago staple, committed to making a positive impact with not only the way they locally roast and source their beans, but also because of the charity projects they choose to partner with. $1 from all retail and whole bean coffee items sold is donated to local Chicago charities.
Lunch, or is it 2nd breakfast, is at Fatso's Last Stand, for a 'double fatso with cheese' which as Mike says is 'cheesier than a 90s sitcom'. Ooey, gooey and dripping with melted cheese, you can feel your arteries hardening as Mike licks his lips. The restaurant started its life as a hotdog stand so it would only be fair to try one of their 'Char Dogs', a perfectly charred hotdog resting on a pillowy sesame seeded bun, and topped with classic Chicago condiments of pickles, chillies, tomatoes and onions.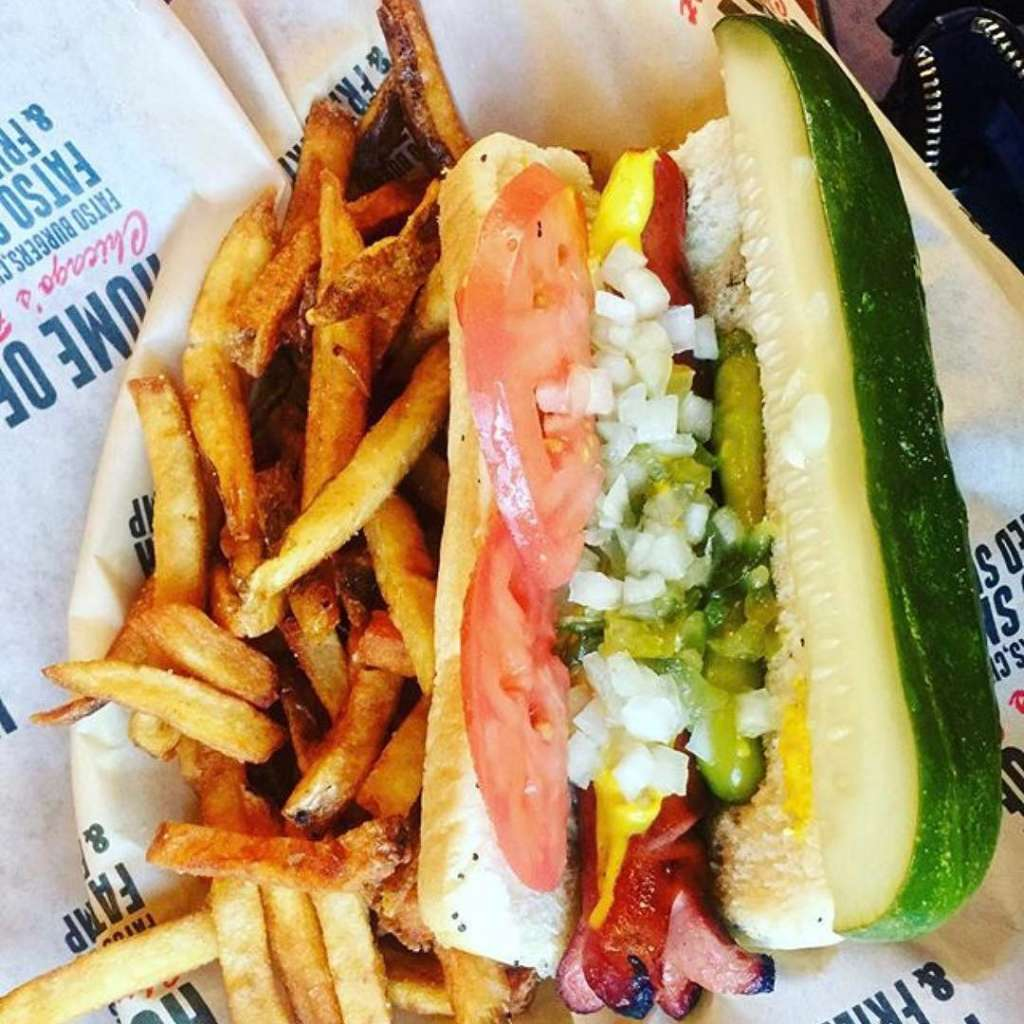 Lou Malnati's is next, to sample one of Chicago's most iconic bites. Considered the oldest family name in Chicago pizza, Lou Malnati's is as rich in history as its pizza is in flavour. Lou Malnati got his start in the 1940's working in Chicago's first deep dish pizzeria. He took his pizza expertise to his own restaurant, opening the first Lou Malnati's Pizzeria in 1971. Lou was known for his fun-loving character as well as making Chicago's best pizza. Loyal patrons return again and again for a taste of his delicious deep dish creations.

Mike rounds out his day at Twin Anchors. Located in an historic Old Town building that dates back to 1881, Twin Anchors Restaurant & Tavern is one of the oldest restaurants in the city of Chicago. Since its founding in 1932, Twin Anchors has always been known for great, tender, barbequed baby-back ribs. Purported to be one of Frank Sinatra's favourite hangouts, Mike sits in Ol' Blue Eyes very own booth where, just like the musical legend, his order is, 'Ribs, and keep 'em coming!'
If your mouth is watering, try our version of a Chicago style deep dish pizza. Next week, Las Vegas has Mike waking up from a food coma filled with spicy noodles and fancy French fare; and a trip downtown sends him flying seven stories off the ground.
Recipe: Chicago Style Deep Dish Pizza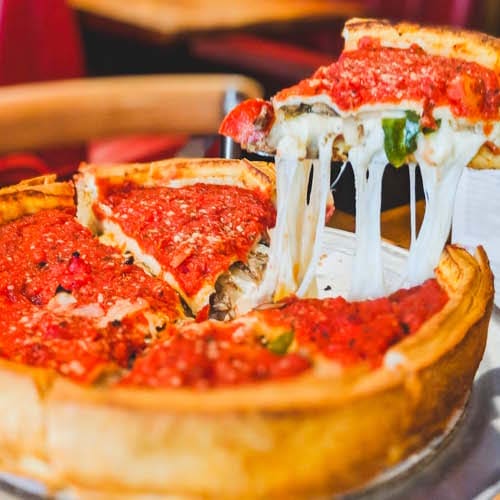 Ingredients
2 balls of ready made Pizza dough – from the fresh pasta fridge of the supermarket. Alternatively, make your own pizza dough.
Here's a recipe: Pizza dough
1 cup of grated mozzarella
100g pepperoni
250g Italian style pork sausages
1 can crushed tomatoes
1 Tablespoons unsalted butter
1 small onion, grated (about 1/3 cup)*
½ teaspoon dried oregano
½ teaspoon chilli flakes
1 clove garlic, crushed
Pinch of salt
Pinch of sugar
Basil leaves
Grated parmesan cheese
Method
Prepare the dough as per the instructions. While it's rising, make the sauce.
For the Sauce:
Melt the butter over a medium heat and then add the grated onion, salt, oregano and chilli flakes. Once the onion has softened and slightly browned after about 5 minutes, add the garlic, tomatoes, and sugar. Turn the heat down to low-medium and allow it to simmer until it's fragrant, and thick – about 30 minutes. Remove from heat and set aside until ready to be used.
When the dough is ready, press snuggly into a 9 inch buttered springform cake tin making sure to press a few centimetres up the sides of the pan.
Sprinkle the mozzarella over the base.
Squeeze the sausage mince out of the casings and break into small pieces. Shape into a ½ circle shape that will fit nicely into your tin. Lay pepperoni slices over ½ the base and then the sausage layer over the other half.
Sprinkle a few torn basil leaves over the meat, before dolloping and spreading the sauce to cover completely.
Sprinkle with a little parmesan cheese and then bake in a 220°C (200°C fan-forced) preheated oven for about 30 minutes until the crust is golden brown. Feel free to loosely cover the pizza with foil after the 15 minute mark to prevent any heavy browning or uneven baking.
This is not a pizza that can be enjoyed on the run, so slice and serve on a plate with a knife and fork.
Place any leftover pizza in an airtight container and refrigerate for up to 5 days. Reheat leftovers in a 150°C oven for 15-20 minutes or until hot.
Swap the pepperoni and sausage for bacon or thinly sliced capsicum, sliced mushrooms, etc. Add enough toppings to suit your tastes.
---
VIEW & CHEW, Saturday nights at 7:00pm (aest) on GOOD, watch now on the free GOOD app, Google and Apple TV and mobile devices or visit feelgood.watchgood.com Watch this episode now. CLICK HERE.
About the Author: Sharon Fitness is a staff writer for GOOD. She's a movie buff, TV fan, foodie and dog lover.
Images: From the show and from the restaurant's websites