View & Chew Season Two – Episode One
BY: Sharon Fitness for GOOD.
A new season means new hosts, a new format and LOTS of new food to explore in the biggest foodie's paradise of them all, New York City. If you were to go to every restaurant in NYC it would take you 22.7 years says new host Allie! Co-host Kels suggests training an army of carrier pigeons to bring you something from every restaurant to save on travel time…hmm not sure how that would work out, but lets get viewing and chewing!
This episode is dedicated to the most ubiquitous of New York food specialities – pizza! Over half a million pizza slices are eaten in New York City every day. Oregano, a family run restaurant, nestled in the heart of Williamsburg is their first stop of the day. They serve homemade pastas, wood fired Neapolitan pizzas, and have lots of vegan and gluten free options as well.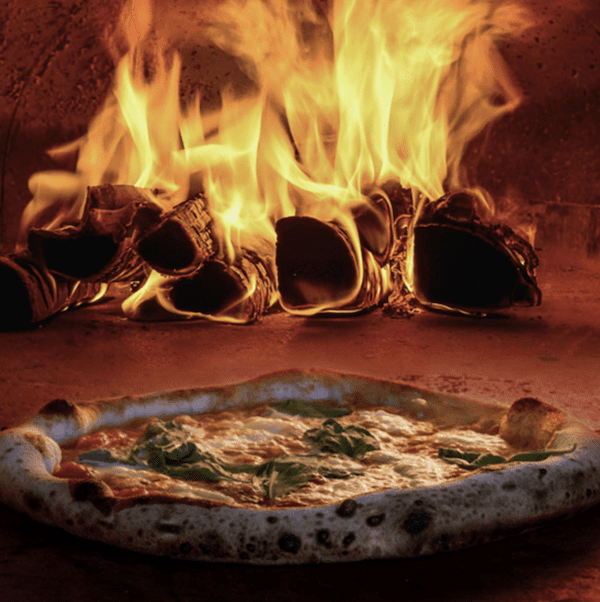 Unregular Pizza, Kels and Allie's next stop, evolved during the pandemic. After weeks of lockdown and yearning for a creative outlet, Unregular Pizza owner Gabriele Lamonaca began experimenting with ingredients and flavour combinations, crafting decadent pizzas (baked squared, in the signature roman style) including his iconic creation; the Burrapizza, where each delicious square slice is topped with a whole burrata! He began a dedicated Instagram account named 'Unregular Pizza' and soon his friends started asking for a taste.
Eager to share his creations, Gabriele suggested they do a barter; a pizza in exchange for something else home-made by his friend. As his online following grew, Gabriele bartered with more and more New Yorkers, swapping his pizzas for a range of treats including traditional meals, tempting desserts and home brews. And so, during an unprecedented time of global disconnect and isolation, it was the pursuit of human connections that brought Unregular Pizza to life.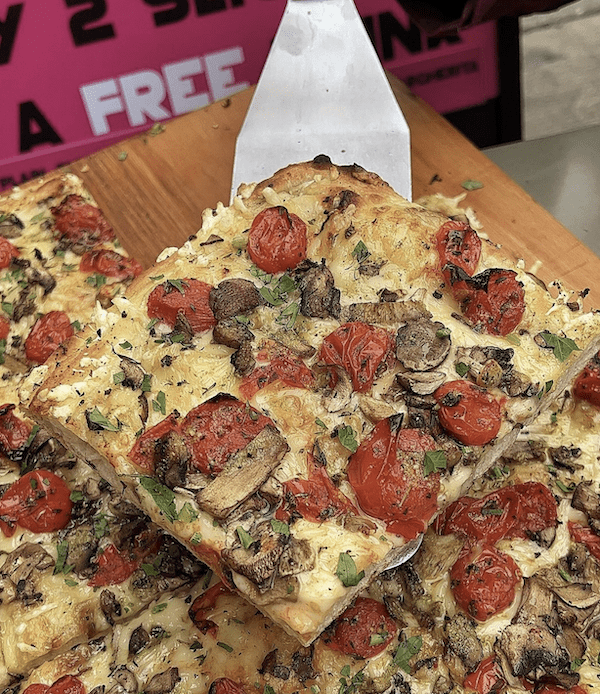 A visit to The Highline is next. This unique and fascinating space is a public park built on a historic freight rail line elevated above the streets on Manhattan's West Side. Saved from demolition by neighbourhood residents and the City of New York, the High Line opened in 2009 as a hybrid public space where visitors experience nature, art, and design.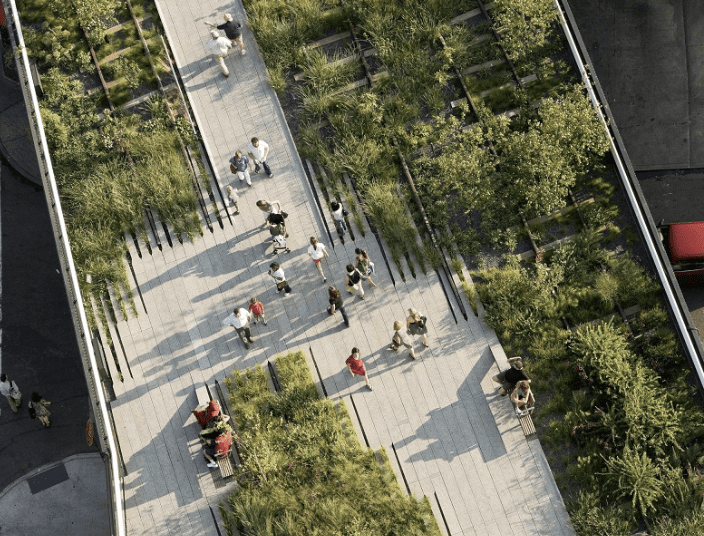 Smorgasburg is the largest weekly open-air foodmarket in America, attracting thousands of people each weekend to Brooklyn, Manhattan, Jersey City, Los Angeles, Miami and Toronto to eat from dozens of local vendors. Kels and his guest Olivia try some truly original pizza creations from Woodfired Edibles a mobile artisan wood fired pizza and cookery catering company based in Brooklyn and NYC.
Pizza is truly the most iconic of New York foods and so its only fitting to start this new season of NYC bites with this most classic New York dish. Next week, Kels hits the streets of Brooklyn to find the best BBQ the Big Apple has to offer while Allie finds herself on a walking tour with a movie star.
Recipe: Authentic Neapolitan Pizza
Ingredients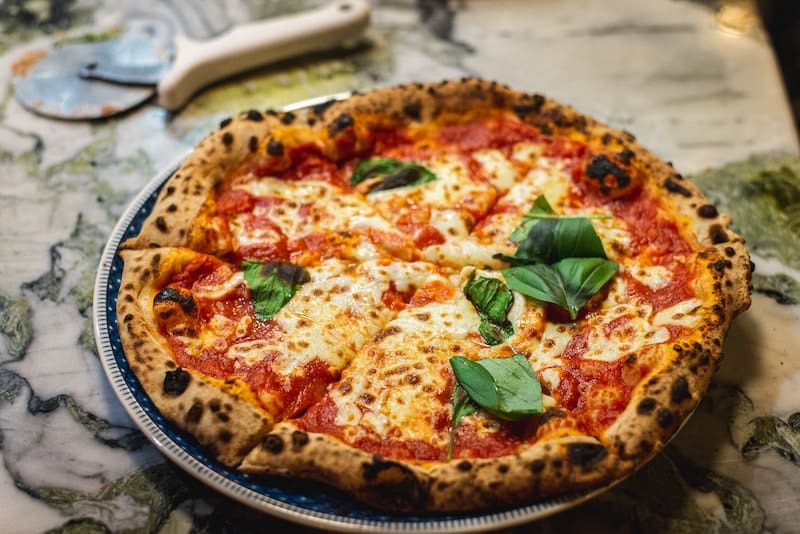 Makes 4 10 inch pizzas
For the dough
00 or strong white bread flour – 640g
Water (room temperature) – 360g
Salt – 14g
0.2g to 0.5g instant yeast
For the toppings
300g tinned tomatoes
1 tbs Tomato puree (optional)
A sprinkling of table salt or sea salt
Freshly ground black pepper
Mozzarella (250g fresh Mozzarella balls)
Parmesan – about 30g
A few glugs of extra virgin olive oil
A hand full of fresh basil leaves
Method
For the dough
Tips:
This recipe is for a 24 hour prove. This may sound like a long time but don't worry!
Simply make the dough the night before you want to make pizza and you will be good to go on the following evening.
Mix all the ingredients into a shaggy mass in a large bowl, starting by adding the water first. You can do this by hand or use a wooden spoon.
Cover the bowl with cling film, a plastic carrier bag, or a damp cloth (if the cloth isn't damp the dough may dry out).
Leave the dough to rest for around 1 hour.
Turn the dough out onto the counter and knead for around 5 minutes.
Place the dough back into the bowl and cover tightly.
Leave the dough to prove (in one big lump, don't worry too much about the shape) for around 20 hours.
Divide the dough into 4 equal parts (250g each) using some kitchen scales and a knife (or dough scraper). Do this about 4 hours before you intend to cook the pizza (after about a 20 hour prove).
Place each dough ball into a small bowl and cover. Alternatively, use a large plastic container with a lid, or two smaller ones.
Leave the dough balls to prove again for about 4-6 hours.
For the tomato sauce
Blend a tin of quality plum tomatoes into a smooth sauce.
Cook the sauce until it reaches the desired thickness (still runny but quite thick).
Add a tablespoon or 2 of tomato puree for a richer, sweeter sauce (optional).
Season with salt and pepper to taste.
For the shaping/cooking
Tips:
Shape and cook the pizzas one at a time. If the pizzas are shaped and left to sit before cooking, they may stick to the surface and then rip when moved. Speed is important!
When loading the pizza onto the chopping board or peel, be sure to use a little sprinkle of flour. And again be quick! Once the pizza is on the peel/board load it straight into the oven. These tips should prevent the pizza from sticking.
Removing moisture from fresh mozzarella stops the pizza from becoming soggy. This can be done by breaking it up and wrapping it in kitchen roll 30 minutes before. Removing some of the moisture from mozzarella prevents soggy pizza. You can also buy low moisture mozzarella which requires no preparation. This is the easiest option for ensuring you don't end up with soggy pizza!
Directions for shaping/cooking:
Ensure that you baking stone or pizza try is inside your oven. If you don't have either of these, you can use a baking tray turned upside down.
Get your oven up to temperature. For pizza ovens 420 – 480 degrees Celsius. For a regular domestic oven, as hot as it will get (around 260 Celsius). With a regular home oven, it's probably a good idea to turn the oven to full temperature.
Dust a dough ball with plenty of flour and remove from the container. Place the dough into a large bowl with a generous covering of flour in the base of it.
In the bowl, press down from the centre of the dough towards the edges. The idea here is to move the air from the middle of the dough to the outside, where it will form a crust. Be careful not to press the edge of the dough down (the crust), any air removed cannot be regained and you will not end up with a well-risen crust.
Keep turning the dough as you work the air towards the edges. You should start forming a small pizza shape at this stage. Turn the dough over and repeat this process in the bowl, on the other side.
Remove from the bowl and place on the counter, ensuring the base of the dough is coated with plenty of flour. Stretch the dough – remembering not to touch the edge of the dough (the crust), hold the dough down with your right hand, and with the other gently stretch the dough outwards.
Repeat the stretch – keep turning the dough and repeating this until you have a base which is about 9 to 10 inches in diameter. You can usually go thinner than you think so don't worry too much about the dough ripping. Try to get a nice round shape but don't worry if it's not perfect.
Top the base with around 2 dessert spoons of tomato sauce and spread gently across the pizza and up to the edges (just before the crusts). Be careful not to press down as you spread or you may make the dough stick to the counter.
Spread about a handful of Mozzarella evenly across the pizza, and you are ready to cook! (You can add parmesan, basil, and olive oil before or after cooking – if you want to add them.)
Slide the pizza onto a peel (that has a dusting of flour on it), or chopping board if you don't have a peel.
Load straight onto baking stone/tray inside oven.
For a pizza oven, cook for around 60 – 90 seconds and turn every 20 – 30 seconds as required. For a regular domestic oven, cook for around 6 – 8 minutes, turning about every 2 – 3 minutes as required.
Remove the pizza from the oven (preferably with a peel) and place on a chopping board or a plate. Grate parmesan on top and add some torn basil if you like. You can also optionally finish with a drizzle of olive oil and a sprinkling of black pepper.

Let the pizza cool a little and tuck in! YUM!
---
Images by Aurélien Lemasson-Théobald on Unsplash and from the show and restaurants.
VIEW & CHEW, Friday nights at 7:00pm (aest) on GOOD, watch now on the free GOOD app, Google and Apple TV and mobile devices or visit feelgood.watchgood.com. Watch this episode now. CLICK HERE. Watch season one too. CLICK HERE.
About the Author: Sharon Fitness is a staff writer for GOOD. She's a movie buff, TV fan, foodie and dog lover.