Ep 1 Recap – When Call the Beets
By: Rach Kayrooz
Following last season's revelation of Faith's feelings for Nathan, and Henry's heroic act of destroying the coal mine, newly-engaged Elizabeth is inspired by the community of Hope Valley who can overcome anything with a Christmas tree. And a basket full of beets.
We're welcomed back to Hope Valley with a swap meet run by Minnie and Molly. This will likely inspire the name of a new product, like Minnie and Molly's Hope Valley Jam.
Rosemary becomes focused on pointing at random things in the newspaper and voicing her opinions on Elizabeth's forthcoming Fall wedding. Can Flo please tell them we call it Autumn here?
The town can't stop talking about beets! Lucas and his beets are "doing something" – what? It's a surprise. Maybe he's collecting them to throw at Walden if he ever escapes and fronts town again.
Mike's gone from Mayor to Saloon Manager, the obvious career choice. Instead of running the town, he's running a bar. Which is where everyone in town congregates, so he's really Mayor of the Saloon now. Word has it they named a drink after him, The Hickam.
Lucas appears loopy in love, speaking about becoming a man of leisure and his Grandmother's mantra of "eat well, laugh often, love much." I think he's had one too many Hickams.
Elizabeth has been watching Dead Poet's Society as she teaches the children "carpe diem". It seems Latin and French are the languages of love in Hope Valley.
Fiona, Mei, and Faith are now having pyjama parties as they move in together, leaving Nathan wondering if he'll be called out to noise disturbances at 2am.
Just when we thought there no more surprises, Scout, the new Mountie dog, arrives. A failed Mountie dog who runs away from Nathan first chance. Poor Nathan. He can't land a girl or a dog for company.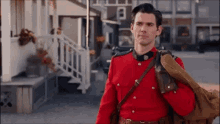 Rosemary is cutting back on maternity clothes, with Elizabeth offering her not-so-fashionable wares in kind. Just when we thought Rosemary "I am not meant to be dusty" Coulter will have nothing to wear to the saloon, enter Lucas' beets to dye her newly acquired dresses. What would the show be without Rosie's flair?
Henry is out and about wandering the town, as Bill teaches Jack Jnr how to drag…I mean, fly…a kite. Then he hugs little Jack, and suddenly someone is cutting onions. I'm not crying, you're crying!
Rosemary introduces Lee to prunes soaked in beet juice – apparently better than cherries. We expect they'll be running to Ned's for more toilet paper by episode two.
Allie turns up to school utterly drenched, with a few of the boys. It seems Cooper found a swimming hole that's the new hangout for the cool kids. At least we know they haven't been smoking behind the toilet block.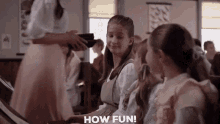 All is forgiven as Allie presents Elizabeth with a poem for review – do we have a budding poet in our midst?
Bill is Acting Mayor yet again, as Elizabeth channels Footloose, asking Bill to check out the swimming hole and close it down. No more fun for the Hope Valley kids.
They take a stroll through the woods with Bill's magic walking stick that is actually a machete, clearing the path to a beautiful waterfall that no one in Hope Valley has ever discovered. But the kids did in 5 minutes. Could these hot springs be the natural answer to Bill's respiratory ailments?
And by golly, if Rosemary discovers the hot springs, she'll be begging for a water birth!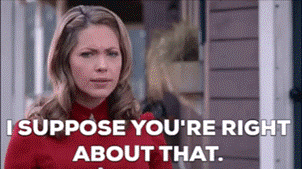 That night, Lucas and Minnie's surprise is a dinner for the whole town – of beet soup, beet mains and beet dessert. At this point, the town is renamed Beet Valley.
Joseph shares the values of humility, community, safety, and walking humbly before God, as many moments of gratitude inspire the town.
Later that evening, Lucas and Elizabeth see the Northern Lights which in turns makes them get mushy and kiss… again!
The episode finishes on Bill dressed in his onesie, as he falls back into the shallow waters of the hot springs, loudly announcing "carpe diem!" Clearly, the Bondi Rescue lifeguards need to teach him water safety.
I'm off to check if WCTH onesie swimmers have hit the merch yet.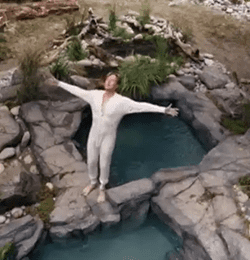 Til next week, these episode 1 mantra's should keep Hearties going:
Lee to Richard: "We rise together, and we fall together."
Lucas to Elizabeth: "Eat well, laugh often, love much."
Fiona to Faith: "I think real love is worth waiting for."
---
Watch When Calls the Heart Season 10 episodes weekly 7:30pm AEST Wednesday nights on GOOD. or stream from the free GOOD app.
Watch this episode now: CLICK HERE
About the Author: Rach is an AACTA Award-winning writer and tv/film content creator, and an award-winning speaker with a background in social and human rights advocacy. A classically-trained vocalist and proud mum/manager of a singer/songwriter/musician (and a rescue dog), she continues to teach singing professionally, and rock 90s dance moves in a non-professional capacity. In the brief moments between raising awareness for accessibility and inclusion for people with disability, Rach dreams of travel to far away places (like the western suburbs…. or Paris and Vancouver). A former theatre and film actor, Rach is currently working behind the scenes on pre-production for her documentary FND: Not My Story, and reality tv show Facing the Fear.
Socials: @rachkayrooz