Planning the perfect When Calls the Heart Finale Heartie Party
BY: Sharon Fitness for GOOD.
Planning the perfect Heartie party, inspired by the TV series WHEN CALLS THE HEART requires attention to detail and a touch of rustic charm.
With Season 10 drawing to a close, why not get some friends around on Wednesday night October 18 for a viewing party to watch the finale together on GOOD.? Here's a step-by-step plan to ensure your Finale Heartie party is a memorable and heartwarming event:
Step 1: Set the Date and Location
Choose a date that works for you and your guests. If you can't do Wednesday night, maybe the following weekend. You can have a Heartie Party whenever you like though. It doesn't have to be a finale party.
Decide whether you'll host the party indoors or outdoors, aiming for a cozy, rustic ambiance.
Step 2: Invitations
Create invitations that reflect the show's theme with rustic fonts, floral motifs, or imagery from WHEN CALLS THE HEART.
Send invitations via mail, use digital invites by email for convenience or set up a Facebook event to easily invite your friends.
You could print off our downdable postcards we included in the newsletter. CLICK HERE.
Step 3: Decorations
Embrace a rustic, small-town aesthetic with wooden accents, jam-jar centrepieces, and hessian table runners.
Incorporate elements from the show, such as lanterns, vintage books, and old-fashioned signs.
Hang fairy lights or lanterns for soft, warm lighting.
Step 4: Dress Code
Encourage your guests to dress in a frontier or vintage-inspired style, reminiscent of the show's characters.
Consider hosting a costume contest for the best WHEN CALLS THE HEART look.
Step 5: Food and Drinks
Plan a menu inspired by the show. Think hearty comfort food that might be served by Minnie in the Cafe like fried chicken and dumplings, and old fashioned desserts like apple pie. Or bake some heart shaped cookies or 'Canadian' themed cupcakes. Think maple and bacon! Remember this recipe from Rosemary's baby shower? CLICK HERE for her Lemon Ginger Icebox Cake.
Offer a variety of beverages, including iced-tea, old fashioned lemonade, and perhaps a signature cocktail like 'Hope Valley Sunset'. Use this recipe CLICK HERE.
If you're having your heartie party outdoors, set up a s'mores station for a touch of rustic charm. TRY THIS ONE.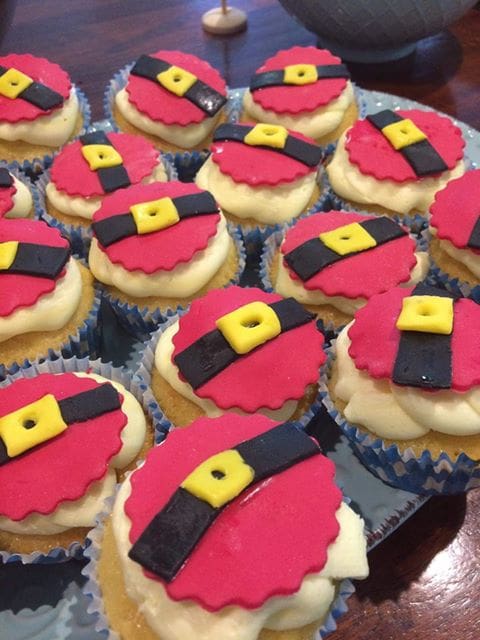 Step 6: Entertainment
Create a cozy viewing area with plush seating for guests to watch the finale. You can also watch other favourite episodes or scenes from WHEN CALLS THE HEART.
Organize games and activities that reflect the show's themes, such as a trivia contest or a heartwarming storytelling session.
Step 7: Music
Curate a playlist of folk, country, or acoustic songs to set the mood.
Step 8: Favours and Prizes
Prepare Heartie-themed favours like bookmarks, vintage-style keychains, or personalised candles.
Offer prizes for party games or costume contests, such as WHEN CALLS THE HEART merchandise or themed gift baskets.
Step 9: Photo Booth
Set up a rustic-themed photo booth with props inspired by the show.
Create a backdrop with a WHEN CALLS THE HEART logo or a replica of Hope Valley.
Step 10: Thank You Cards
Send thank-you cards or emails to your guests, expressing your appreciation for their presence and contributions to the party's success.
Remember that the essence of a Heartie party lies in celebrating the values of love, community, and friendship, just like in WHEN CALLS THE HEART. With careful planning and attention to detail, your Heartie party will capture the spirit of the show and create lasting memories for you and your guests.
---
Watch When Calls the Heart season 10 on Wednesday nights at 7:30pm AEDT on GOOD. or stream from the free GOOD app. The Season 10 finale airs on Wednesday October 18th at 7:30pm AEDT.
About the Author: Sharon Fitness is a staff writer for GOOD. She's a movie buff, TV fan, foodie and dog lover.
Images: When Calls the Heart promotional content from GOOD and contributed. Feature images from Pexels.